Order Flowers
Greenidge Funeral Homes, Inc. has developed an exclusive arrangement with a local, well established florist, Boardwalk Florist, to simplify ordering floral tributes for services at our funeral home. Immediate family members, relatives and friends can order floral tributes for a private viewing, wake, funeral, visitation or memorial service right online.
By placing the order through our Web site, you no longer have to worry about giving the florist the information about the service and delivery times.
Our florist will handle all the details and insure that your arrangement arrives fresh, on time and looking beautiful. And the cost is exactly the same as if you ordered the flowers in person directly from the florist.
For best service it is recommended that you place your order at least 24 hours in advance. Should you order within 8 - 24 hours before the viewing or service is to begin, you will want to call Boardwalk Florist to follow-up with your order. Their number is 609-345-1500. If you are ordering 3 - 8 hours before the viewing/service time, it is recommended that you DO NOT place an order on this website, but call Boardwalk Florist directly at 609-345-1500. Any orders made within 3 hours of the service should be pieces sent to the family's home for them to enjoy after the services.
Please make a selection from the following categories: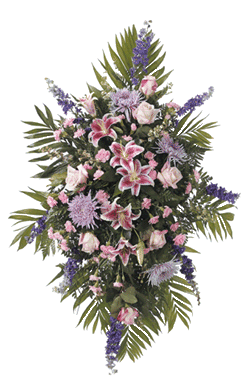 » Arrangements for Home
» Baskets
» Casket Pieces
» Standing Sprays