Pre-arrangement Benefits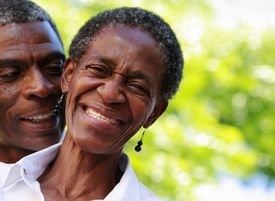 Planning your funeral arrangements in advance can offer you and your family a number of benefits:
Emotional Benefits
More Time to Consider Your Options – You and your family will have time to research your options and make well-informed decisions, without feeling rushed
A Sense of Accomplishment – You'll feel good knowing that these arrangements have been taken care of
Fewer Family Concerns - Your surviving family members will have less to worry about in the event of your death
Overview of Pre-planning and Pre-paying Funeral Arrangements
To prearrange a funeral for yourself or a family member, you may contact Greenidge Funeral Home. A funeral director will talk with you about the kind of funeral you desire. You will be asked to make a number of decisions that otherwise would be discussed after death. The choices you make will be recorded on an itemized statement. The statement will list all requested services and merchandise and the charges involved. Any advance payment you make toward your funeral will be held in trust as required by New Jersey law to ensure the money will be there when it is needed.
Preparing to Meet with a Funeral Director
If you intend to preplan your funeral, tell a family member or close friend that you have selected Greenidge Funeral Home. You may also want to ask someone to accompany you to the prearrangement conference. This person can help identify the person who will have the authority to sign off on the arrangement at the time of your funeral.
How much will my funeral cost?
The cost of your prearranged funeral will vary depending on the type of funeral you select. The NJSFDA provides a range of funeral costs online. These figures are updated every two years based on a survey of NJSFDA member funeral homes. The funeral home will not charge you a fee for the prearrangement conference.
Revocable and Irrevocable Prepaid Funeral Agreements
There are two kinds of prepaid arrangements: revocable and irrevocable. Revocable agreements must be refunded upon demand, including all principal and interest. Trust fund moneys are revocable or 100% refundable on demand and with interest. And you may change the funeral home and the selected funeral services or merchandise at any time without penalty. Irrevocable agreements are required in New Jersey when creating a prepaid funeral account for SSI/Medicaid applicants and recipients. Irrevocable means that the trust fund moneys are NOT REFUNDABLE.
Only individuals prepaying their funerals in order to qualify for SSI, Medicaid, or General Assistance may establish irrevocable arrangements, which must be used for funeral and burial purposes. Irrevocable arrangements cannot, by law, be cancelled or refunded (although consumers may change funeral homes).
Irrevocable Accounts & Any Excess Moneys
In order to reimburse the state of New Jersey a small portion of the money it spends each year on the SSI/Medicaid program, legislation has been enacted regarding irrevocable funeral trusts and insurance policies specifically purchased to fund a funeral. This legislation says that, once all funeral expenses have been paid, any moneys remaining in irrevocable trust accounts opened on or after February 27, 2000 or in newly issued insurance policies that have been purchased on or after February 27, 2000 and that are irrevocably assigned will be forwarded directly to the state.
Sample Revocable and Irrevocable Trust Agreements
The following forms are available as Adobe Portable Document Format (PDF)* files for you to view and download:

* NOTE: Adobe Acrobat Reader software is required to view this file - if you don't already have the Reader installed on your computer, it is available for free from Adobe's website - please click the icon at right to be taken to the download page.
Guaranteed vs. Non-Guaranteed Prices
Like other costs, the funeral home's charges may change between the time of the prearrangement and the time the funeral takes place. Some funeral homes, but not many, guarantee the prices they quote for your prearrangement. Most funeral homes offer prearrangements with non-guaranteed prices. They have the option of adjusting their bill to reflect the charges that are in effect when the funeral takes place. Interest-bearing prepayment plans can help keep pace with inflation.
Prearranged Funerals in New Jersey Are . . .
A Blueprint for the Funeral: Preplanning provides you and your family with a blueprint for the funeral service that you envision. It enables you to discuss the many options that are available and choose the type of remembrance that is right for you. The prearrangement is an opportunity to identify any benefits that may be available to your family at the time of death, such as Veterans Administration, Social Security, fraternal or civic organization benefits. It helps the family understand the costs associated with the funeral and identifies a method for paying for these costs.
Alterable and Refundable: Your funeral prearrangement does not prevent you or surviving family members from making changes to the funeral later. You, or your next of kin, may wish to upgrade, reduce, transfer or even cancel the prearrangement if you wish.
Protected by Trusting Laws: All monies paid to a funeral home for prearranged funeral services are required to be placed in trust in a Federal Deposit Insurance Corporation (FDIC) insured account, which means the funeral home can not access those funds while the intended funeral recipient is still living.
Paying for Your Prearranged Funeral
In New Jersey there are three ways to prepay or prefund a funeral. Funeral homes can help you to prepay a funeral using one or more of these methods.
1. Establish a prepaid funeral trust fund account. For this purpose, most New Jersey funeral directors use the New Jersey Prepaid Funeral Trust Fund,™ which is a commingled trust offered through the trustees of the New Jersey State Funeral Directors Association.
Trusted moneys are 100% refundable on demand and with interest. And you may change the funeral home and the selected funeral services or merchandise at any time without penalty. (Irrevocable trust accounts for SSI/Medicaid recipients are non-refundable.)
100% of the principal and interest must accrue to the benefit of the trust (less a trustee's fee of a maximum of 1 percent),
Moneys must be deposited in an FDIC insured bank account.
Authorized providers of NJPFTF use a standard Trust Agreement contract which has been entered into by tens of thousands of consumers over the past quarter century. View Sample NJPFTF Agreement.
2. Assign existing life insurance policy or policies to the funeral home.
Our funeral home can assist you converting the policy so that the funeral home may only become the owner of the policy and not the beneficiary.
Ask your funeral director about the prefunding options available to you.
To request more information regarding preplanning/pre-arrangement, or to begin the preplanning process, please call us at (609) 345-6305 Or, you can complete our easy On-line Pre-arrangement Form now.
Some information on this page is provided by New Jersey State Funeral Directors Association, Inc.